POPULAR TRIP
Free Download: Mont Blanc Ultimate Guide
BUCKET LIST ADVENTURES
Climb Mont Blanc (4810m) the highest peak in Western Europe. It's an imposing and highly sought after summit that sits at the roof of the Alps on the border of France and Italy. If your adventure juices are flowing, then keep on reading...

We've helped hundreds of clients summit Mont Blanc, most of whom have little or no experience climbing mountains. Our success rate is extremely high largely due to the way we've built the trip, allowing for multiple acclimatisation days and a two day window to summit Mont Blanc. That way we reduce the chances of altitude sickness and bad weather getting in the way of your big climb.

Oh, and just for good measure, we'll even throw in the summit of Gran Paradiso (4061) in Italy at the start of the week. We're just that kind of company...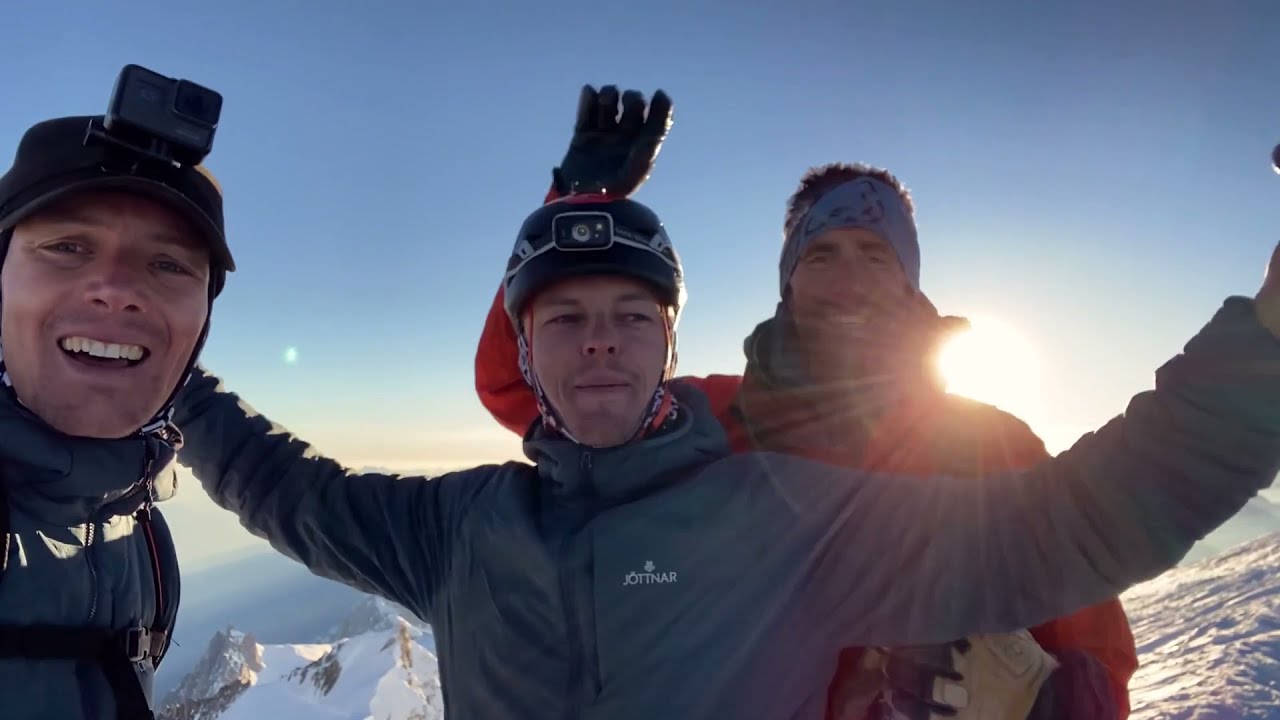 Free Guide: Climb Mont Blanc
Download our free 39 page guide with everything you need to know about climbing Mont Blanc. It includes video content, kit lists, advice for climbing the mountain and much more.
WHO IS THIS FOR?
Anyone with a good level of endurance fitness and a sense of adventure. Previous mountaineering experience is a bonus, but not essential as we teach all required skills during the week. However good physical coordination and an ability to pick up new skills is important on Mont Blanc. Mont Blanc is the highest peak in Western Europe and therefore the altitude and terrain makes it hard work.
Determination is needed to keep you going to the top. While this adventure is open to beginner mountaineers, please note that doesn't mean it's physically easy. Make sure you have a good base fitness level before you get here as it will make the week feel less strenuous and maximise your chances of success. Not sure whether you're ready? No sweat! Drop us a note and we'll be happy to talk it through with you.

BUILT BY KENTON COOL, 14 TIME EVEREST SUMMITER.
STAND ON THE TOP OF WESTERN EUROPE
This trip has been built by Kenton Cool, who was first introduced to mountaineering when he read about Hillary and Norgay's first ascent on Mount Everest in 1953. Within his 14 Everest summits in 2009 he successfully guided Sir Ranulph Fiennes to a successful Everest summit in 2009.
Kenton didn't start his mountaineering career going straight up Everest. Mont Blanc, is a great first step for anyone looking to take their first steps in to high mountaineering or for those just looking for a great adventure.
Adventure Overview

Duration

1 Week

Start Location

Chamonix, France

Date(s)

June - September

Guide Ratio

2:1 Summit Days

Ability

Level A

Level A

You're not quite sure where to start but you're hungry for an adventure and can't wait to get going. Bring it on!

Price

2470
ENVIRONMENTAL RESPONSIBILITY
Great news! Your place on this adventure is carbon offset along with our footprint in creating it. To learn more about what we're doing head to our 'about us' page.
Gran Paradiso, The Gouter Hut, The Roof of Western Europe, French Cheese... Need we go on?
This trip to Mont Blanc has so much more to offer than the stunning mountain views. It's is jam packed full of amazing moments and experiences that can be told to friends and family in years to come. If you've got a bucket list... this is got be on it!

WHY HERE?
DARING ADVENTURES
We believe the future belongs to those that do. That's why we build adventures in stunning environments, inspiring us to dream big and live more. Our trips are not easy, but the best things in life aren't.
WHY THEM
HUMAN EXPERIENCES
Great teams, local culture, authentic experiences, quality adventures. It's these principles that make our trips memorable. We believe experiences are better when you can share them with someone else.
WHY US
EFFORTLESS ORGANISATION
Save your effort for the Adventure. We'll do the rest! We pride ourselves on getting the details right and your trip ready. After all, you've got an adventure to prepare for.
Want to learn more?
Get in touch today to schedule a free call or download our guide above to discover how you might take on one of the most exciting mountain experiences going.